Ghanaian Afropop artiste signed to RuffTown Records, Wendy Shay, has vented her anger on some musicians who are supposedly stealing her songs.
In a Facebook post, the Uber Driver hit maker indicated that she had experienced situations where after sending files of her songs to some artistes to be featured on, they rather stole portions of her melodies for their songs.
"You send a song to a GH artiste for a feature. Next thing you know, your melodies are in their new song! This is the second time it's happened to me… thieves! Ghanaian artists, wake up!" she wrote on Saturday, June 3, 2023.
Supporting her point, rapper Edem also wrote in the comment section: "I know the artiste."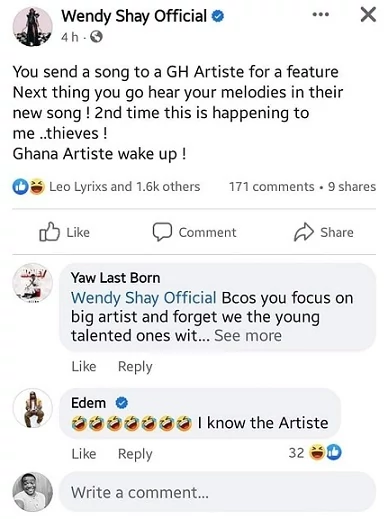 It is unclear who Wendy Shay is referring to in the post but some have suggested this could be one of the artiste's usual antics to court attention in the media circles.
The issue of Ghanaian rapper Obrafour suing Canadian rapper Drake for sampling a chant in the former's 'Oye Ohene' remix, is a recent example that lingers on the minds of Ghanaian music enthusiasts.
Source: MyJoyOnline